Well, the board is either fixed, or it's going to run terribly. Cross your fingers and hope for the best. I'm at my technical limit right now.
Senior Moderator

Posts: 136
Joined: Fri Jun 02, 2017 7:00 pm
Age: 71
Location: Sacramento area, California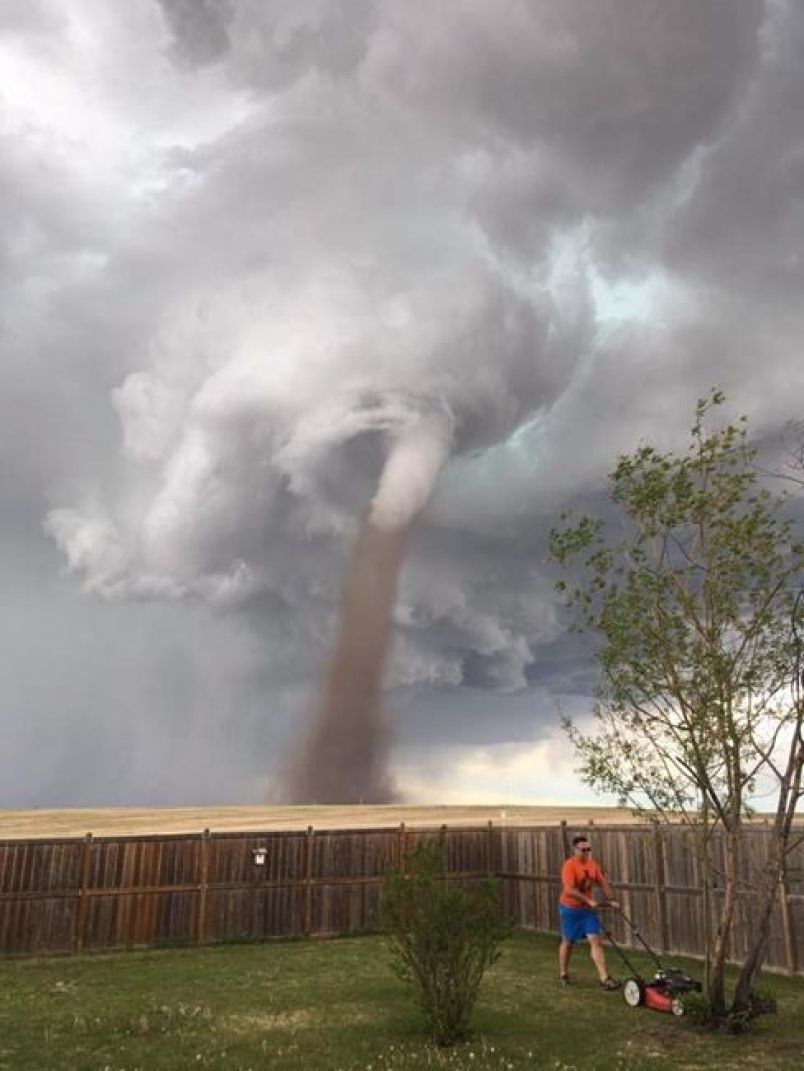 Legit photo of Theunis Wessels of Alberta, Canada taken on June 4, 2017. Not 'shopped'.
Man who mowed lawn with tornado behind him says he 'was keeping an eye on it.'
The difference between a Communist and a Socialist is; the Socialist doesn't have all the guns yet
---
Bullet Banger

Posts: 624
Joined: Sun Jun 04, 2017 11:26 pm
Location: Findlay Ohio
I lived through a tornado when I was 8 it took a neighbor s trailer and wraped it around the tie downs it shook the house hard and nissed the house by 100 feet north of us. Dad opened the door while it was going by and you could not see 3 feet
---
Yeah, I doubt I would be mowing the lawn with that on the horizon.
---
Junior Member

Posts: 31
Joined: Sat Jun 03, 2017 4:35 pm
Location: Pennsylvania
---
Bullet Banger

Posts: 667
Joined: Sun Jun 04, 2017 6:08 pm
Age: 52
Location: Brisbane Australia
He seems a bit blase about it.

We do not experience many Tornadoes here and not at those intensities either
Life is tough, tougher if your stupid

"The world is a dangerous place to live; not because of the people who are evil, but because of the people who don't do anything about it." Albert Einstein
---
Junior Member

Posts: 36
Joined: Sun Jun 04, 2017 2:41 pm
Location: Christoval TX
well that is interesting!!
---
I would have had a hard time mowing while that was going on. I'd want to be filming it!
---
Global Moderator

Posts: 98
Joined: Sat Jun 03, 2017 6:12 pm
Age: 46
Location: Toronto, Canada
Just another day up here in Canuckistan! I look at that photo and think a big fat NOPE!
---
Junior Member

Posts: 26
Joined: Fri Jun 02, 2017 5:39 pm
Age: 28
Location: Cedar key FL
The guy mowing gives zero shyza about what's going on behind him. LOL.

Id be too awestruck
That moment when your post counter is reset..
---
Member

Posts: 74
Joined: Tue Jun 06, 2017 9:24 am
Age: 65
Location: USA, Minnesota
After 40+ years of chasing tornadoes or storm spotting for our county civil defense, I would give any spotter a good talking to if they did that.
This ain't Dodge City and you ain't Bill Hickok - Matthew Quigley
---
Who is online
Users browsing this forum: No registered users and 2 guests