I got you beat on the shortest fore stock bubba.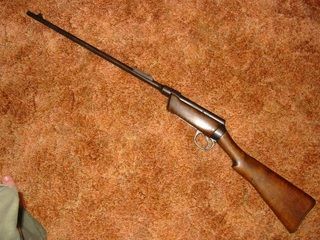 This, as I have been led to believe, was and still is a common modification for use as a 'Dory gun'. The lack of a forearm allows it to be stowed up under the gunwales of an east coast fishing boat. Great for shooting sharks, seals and sea monsters?
Similar to your sporter, Bubba cut the stock off and threw the metal furnature away.
I restored it back to original spec.

All I had to do was to clean and reassemble, replacing the fore stock, nose cap, bolt and mag.
Judging by the pics of your project rifle, it also has a full length barrel but with an aftermarket sight ramp?
Yours to do with as you wish, I get that, but using a numbers matching full length barreled sporter for a fantasy build?
Better put your helmet on and be ready to duck!
Oh, and take a closer look at your barrel muzzle. Fulton regulated rifles would wear a ball burnished barrel. The face of the muzzle was perfectly flat and the barely visible shallow crown would appear to be a perfect circle.