Ok guys, I know it's been a while... and I owe you an update.
I swapped scopes, she's now wearing a Bushnell elite 10X MOA/MIL. I've got about 1,500 rnds of Wolf match extra for her, but with the current stupidness I've been hesitant to bring her out...
I shot our club NRA bullseye league match yesterday and stayed for public shooting. I got quite a few looks as I was setting up my .22 lr for prone... and then walking my target out to 200 yds.
I was trying out my iPhone/spotting scope combo and managed to get both a side veiw video of me, and a video with my iPhone through the spotting scope of my target. You can barely see mirage, and with the sub-sonic bullet no bullet trace. But at 40X you can see the yellow 'splash' of the shoot-n-see target.
I need to expriment with some editing software, and see if I can make a decent video to post on youtube... but here are some screenshots for you guys.
Me with the rifle...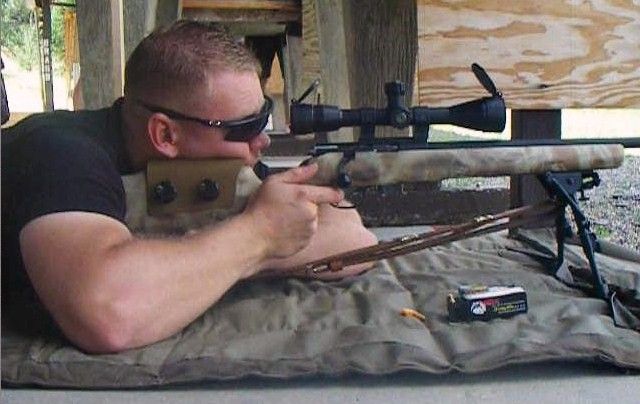 Here is the firing solution shooter gave me... @ 23 MOA up from a 50 yd zero, the bullet is dropping 46". That's a little less than normal, due to the 5200 ft elevation, and 67% humidity... for a lower elevation, and dryer air it's around 27 MOA. The inputs used were G1 B.C. of .130, and M.V. of 1050 fps. The flight time of the bullet is almost 3/4 of a sec!
Here is a screen shot of the target vid. This was the first round downrange... you can see it about 3/8" left of center in the black. I held 2 MOA left for wind... it was only 2-3 mph, but anything affects those tiny bullets. I shot five rnds at it, and hit the black 3 times. That sticker is 3" in dia. Ultimately I had about a 4 1/2" group... which I was more than pleased with!!
Now I need to figure out how to make a decent video with the footage I've got.
_________________
"I predict future happiness for Americans if they can prevent the government from wasting the labors of the people under the pretense of taking care of them."
Thomas Jefferson